Connecticut state police have
charged a Monroe youth minister
on accusations that he e-mailed a 15-year-old girl explicit photos of himself to her.
The suspect, 30-year-old David Esarey, of Newton, is also accused of engaging in a sexually charged conversation with the girl, whom he often counseled.
Police say the case began when a church member, using Esarey's computer, attempted to try and find various pictures related to the youth group members but instead stumbled upon a naked photo of the 15-year-old. Obviously concerned, the individual contacted the lead pastor who in turn contacted the girl's mother.
Soon, mom did a little digging of her own and discovered an e-mail purportedly sent by Esarey in which he discussed engaging in sexual activity with her daughter. In several other classy e-mails, the youth minister reportedly e-mailed the girl a picture his genitals.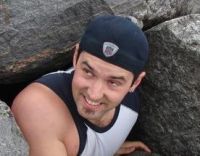 Officials close to the case say the girl had originally gone to see Esarey about the meaning of God but at some point the conversations drifted into a whole different area, such as oral sex and sexual intercourse.

When police confronted him, Esarey admitted he did counsel the girl but denied any wrong doing. In fact, he claimed there was a number of teens interested in having sex with her, so it was them who might have used the church computer as well his personal cell phone.

Esarey, who is married, had been the youth minister at the Stepney Baptist Church in Monroe since 2005, and while his information has since been removed from the church website, a cache reveals a short bio of him.
UPDATE: Esarey pleads guilty.
UPDATE II: Esarey convicted