Suspect gets 10 years in prison
:
A 21-year-old food services worker at Disney-MGM Studios has been sentenced to more than 10 year in prison after pleading guilty on child pornography charges.
Investigators had arrested Tony Guerra, of Kissimmee, late last year after an undercover police officer posed online as a 32-year-old mother and received "lewed messages" from Guerra in regards to her children.
It later turned out Guerra loved to watch the sexual abuse of babies and infants for his own personal viewing pleasure. So much in-fact, after Guerra was arrested, agents seized a computer where they found more than 5,000 images of child pornography on it.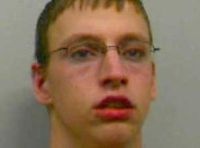 Court documents had revealed that in all 5,000 of those images the oldest child was estimated to be no more than 6.

If Tony Guerra's name sounds familiar to you, it's because I previously told you about him here and here.