A Kingsport Tennessee man who thought he had made a date for sex with a 13-year-old girl but actually instead wound up with 49-year-old Chris Hansen and his "To Catch a Predator" crew has been sentenced to five years in prison.
25-year-old Dustin McPhetridge initially drove more than 200 miles to meet the 13-year-old in the state of Kentucky whom he had met online.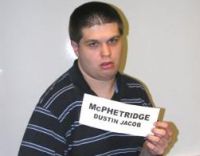 As McPhetridge soon found out, the girl wasn't real at all but instead an individual working with Perverted Justice.