Suspect posed as 17-year-old, say police
:
Police in the state of Pennsylvania have arrested a Kingston man on charges he solicited sex from someone whom he believed to be a 14-year-old girl.
Emory E. Faux III, 22, allegedly posed as a 17-year-old boy in a Yahoo Chat room using the screenname "ttrojan12" and sent various pictures of his genitals to the girl as well as sending sexually charged messages, according to an affidavit.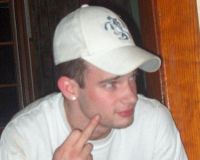 What Mr. Faux didn't know at the time was that the individual he had been chatting with online wasn't really a 14-year-old girl at all but actually an undercover detective posing as one.

As you can see on his above MySpace profile when Emory Faux isn't posing as a teenager online, he's using elmo33em12 as his real 22-year-old self.