Suspect was gang member too, say police
:
Maryland state police arrested have arrested 20-year-old gang member after they say he fatally shot a 14-year-old honor student on a bus.
The suspect was identified as 20-year-old Hector Mauricio Hernandez, an illegal immigrant from El Salvador. Hernandez belongs to an international gang that call themselves
Mara Salvatrucha
, or MS-13.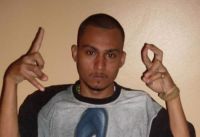 According to eye witnesses, Hernandez boarded the bus with a group of what I'm sure were a bunch of real winners. Apparently at some point an argument ensued between the Hernandez's group and about 10-12 different individuals on the bus.
Shortly after getting off, Hernandez allegedly fired several shots into the bus, striking three teenagers. One of the teens, 14-year-old Tai Lam, an honor student, was killed during the gunfire and two other teenagers were wounded.

Police are asking anyone with any information regarding the case to call them at 240-773-5070.
Update: Two more suspects have been arrested in connection with the Lam slaying. They were identified as 20-year-old Gilmar Leonardo Romero and 30-year-old Mario Ernesto Milan-Canales.