Suspect allegedly stored images on external hardrive
:
By all estimations 23-year-old college student Joshua Brett Wilbanks has had a pretty crappy week.
First off he was arrested by police after child pornography was recovered on his computer and now it appears the
University of North Alabama
(go Lions!) has permanently kicked him off their campus.
This all unravelled when another student, assigned with Wilbanks on a class project, discovered child pornography on his external hardrive. Concerned, the student contacted a faculty member, who in turn contacted police.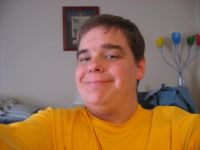 It appears from the looks of it though that Mr. Wilbanks had been living a double life for some time now.
On his above MySpace profile, he states that he was an assistant music director at the Lone Oak Baptist Church near Cornith Mississippi, where he is originally from.

He also writes that after graduating college he had hopes one day of working for a southern gospel recording company or a perhaps even a gospel radio station.