A Brooklyn, Iowa newspaper sports writer has been
arrested on child pornography charges
after allegedly distributing a naked picture of a 15-year-old girl to a minor boy.
Things get a little weirder though from there in the case against 24-year-old Kyle Michael Kirby, who had previously been employed as a sports writer for several small town newspapers in his surrounding areas.
According to a criminal complaint, Kirby who been posing online over at Facebook as "Josh F", crossed paths with a a 15-year-old girl. Later as the conversation between the two transpired, he asked her to send a naked a picture of herself to him.
Sadly, because teenagers aren't all that bright sometimes, she did just that. So you can imagine just how happy Kirby was when he got the naked picture of the girl in his e-mail inbox.
The next devious action Kirby quickly prompted was to log onto Facebook (still using "Josh F") and pose as that female. I don't quite get the whole female-posing-as-Josh thing, but that's what the criminal complaint states.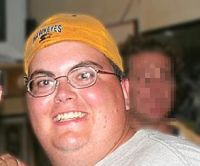 Regardless, during the demented scheme, "Josh F" allegedly found another "friend" in a 14-year-old boy. Delighted having achieved a new one, Kirby sent the boy a naked picture of the girl whom he had earlier solicited. In exchange he was hoping for a nude picture of the him in return.

However, things quickly deteriorated thereafter when a mother of another boy logged onto to check her son's Facebook account and was subsequently contacted by "Josh F" or Kirby.

Already smarter than the average parent, the mother probably knew something was wrong and decided to pose online as her son to see what would ensue.

Kirby, thinking he was actually talking to a 15-year-old male, began to make sexually charged comments to the mother and sent naked photos of the aforementioned 14-year-old boy, and suggested he was bi. He also asked if she knew the boy.

Apparently, Kirby had been pretty darn curious about the 14-year-old and hoped to inquire so much more info on this mysterious child whom he was sexually drawn too.

Sadly for Kirby he only had it half right though. Thanks to small town living, the mother actually did know who the 14-year-old was and after getting offline immediately the smart mom contacted the parents of the boy.

Concerned, they subsequently contacted police who then opened an investigation which lead them to the house where Kirby lived.

Besides the above MySpace profile, he also maintained a blog found here. Sadly, there isn't much there though.
UPDATE: Kirby sentenced to 20 years