Suspect jailed on $200,000 bond
:
A Gilmer Texas man has been indicted on charges of aggravated sex assault of a child.
The suspect, 33-year-old Kerry Scott Baker, has been jailed on $200,000 bond after accusations surfaced that he sexually assaulted two different children.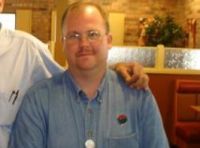 Baker, who claims to be a volunteer firefighter as well as a manager at a Pizza Hut in Gilmore, recently separated from his wife after 11 years of marriage and states on his above MySpace account that he has 3 children.

A series of profiles for his local Pizza Hut can be found here, here and here.
UPDATE: Baker pleads guilty.