Former officer charged with solicitation of 15-year-old
:
A 33-year-old fire captain from Texas has been arrested on charges that he allegeldy solicited a minor for sex using MySpace.
Investigators say the case against Paul Dilocker, of West Columbia, originally began when he had attempted to persuade a 17-year-old girl over the site to engage in sexual activity with him. The girl declined the offer and quickly told her parents about what had happened.
Concerned, they contacted police who in turn told them that they couldn't do anything about the situation because their daughter was of legal age.
Pissed off, her parents hatched a plan of their own. Rejecting the "hug-hug everybody's ok out there" notion they decided to pose online as a 15-year-old girl, which by state law is considered a child.
Shortly thereafter, Dilocker, who had also once been a former police officer, reportedly took the bait and contacted the fake girl.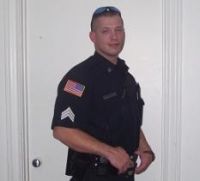 During subsequent conversations using MySpace and Yahoo! Messenger, the 33-year-old purportedly began to partake in sexually explicit chats and at one point proposed to meet her for sex.

The parents then went back into the police station and slapped down chat logs and other evidence that they had collected. This time however police had no choice but to arrest one of their own.

Besides the above cached MySpace profile, Dilocker also maintained another account at myYearbook which can be found by clicking here.