Police in Pennsylvania have arrested a 33-year-old man on charges he sent explicit pictures of himself to someone whom he believed was a 14-year-old girl.
The suspect, identified as East Stroudsburg resident Timothy Eric Shorkey, was
arrested earlier this week
on charges of three counts of unlawful contact with a minor and one count of criminal use of a computer.
Shorkey is also accused of soliciting the girl for sex, telling the 14-year-old, "I could teach u how to do this, if you like." I believe he was probably referring to the webcam video he sent of himself, which in most cases is the usual adult masturbating for a child.
Luckily, the entire time Shorkey wasn't really talking to a 14-year-old girl, but instead an undercover officer posing as one.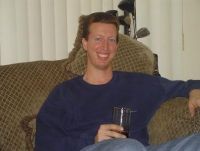 On Shorkey MySpace profile he writes the following on the above picture, "you know you want this!".

Can any self-respecting female out there who is reading this really want something like that? I don't believe so, at least I sure the hell hope not. I got a feeling Shorkey knew this to.
As a matter of fact, it might be one of the reasons why he's out there online chasing 14-year-old girls.