Self-proclaimed spiritualist indicted by grand jury
:
A federal grand jury has indicted an Edmond, Oklahoma man on charges that he disturbed child pornography on a notorious Russian website.
In a statement, the FBI has said that 24-year-old Justin Tyler Gallant had previously posted explicit images of underage boys on the website and encouraged others to access it as well as communicate with them.
Using the screename "Su Do", Gallant had allegedly set up the account which featured a folder using terms that a pedophile might identify with, state court papers.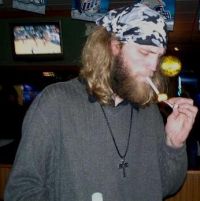 On his above MySpace profile, Gallant writes the following:

I'm a self proclaimed youth evangelist, here to carry the life changing message of Christ due to the change Christ has done in me. For more information go to http://www.2walk.org/ May the Grace of my Lord be with you now and always may you stay blameless till the end. Need to get a hold of me? call 405-637-HELP(4357).

For whatever reason his personal website appears to be down as of right now, however a series of these cache's are available online.

Gallant also maintained several other MySpace profiles found here and here.

Also of interest, under the name "sudousa", the good youth pastor expresses his interest in young boys via links and "friends" on his Youtube page.