Mother tips off police:
A youth minister in the state of Kentucky was sentenced on Friday to 10 years in prison after admitting that he used MySpace to engage a 14-year-old girl into sexual activity with him.
Timothy Scott Richerson, 40, of Greensburg, told a court that he met the girl on MySpace and then began chatting with her via MSN messenger as well as phone.
Richardson, who had had originally displayed himself online as a 16-year-old, sent 3 different videos of himself masturbating as well as numerous sexually charged messages to her.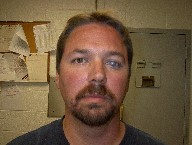 Later after revealing his true age, Richerson met the girl in person where they subsequently engaged in sexual contact with each other.

If his name sounds familiar, it's because I previously told you about him here and here.