Jailed after lengthy investigation
:
After a year-long investigation police in Illinois have arrested a 31-year-old Coal City man on accusations that he possessed child pornography.
Michael Q. Barrett, 31, was taken into custody after investigators searched his residence and recovered various pornographic images of young children.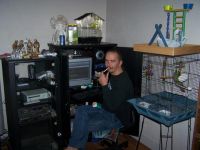 Barrett, who is married with three children, was questioned by police and released after posting $1,000 bond.