A Kentucky school volunteer has been arrested after an anonymous tipster told police he engaged in sexual contact with a 14-year-old student.
According to reports, Justin Shoulta, 20, of Paducah, had been a volunteer at the
Reidland High School Band Boosters
. Often loading and unloading various instruments and sometimes working at the concession stand, Shoutla admitted to police that he did have a sexual relationship with the girl sometime during the Thanksgiving break.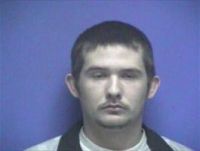 On his above MySpace profile, Shoulta states that he recently got married over this summer and currently owns a company, that in his own words, is "growing like wildfire!"

That company, called "Paranorm Inc.", purports to investigate the paranormal. It's website can be found by clicking here.