Emaciated victim covered in feces, urine
:
Police in California are currently searching the city of Sacramento for a woman whom they feel helped a Tracy couple hold a 17-year-old teenager captive for over a year now.
According to investigators, Caren Ramierz, 43, is a convicted felon who may be the victim's aunt. Court records suggest Ramierz had a felony conviction dating back from 2007 when she was found guilty of inflicting corporal injury on a child.
What's this all about? We'll I'll tell you. Sometime earlier yesterday, an emaciated 17-year-old stumbled into a gym wearing nothing but a heavy chain padlocked to his ankle and pair of over sized boxers. He appeared bruised and cut as well as covered in soot, feces and urine.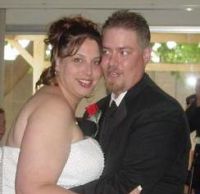 MySpace profile of suspect Kelly Lau
A worker employed by the gym quickly called police while the teen laid in a fetal position underneath a counter.

Shortly thereafter, police arrested both 30-year-old Kelly Layne Lau and 34-year-old Michael Luther Schumacher and charged them with torture, kidnapping, false imprisonment, and child endangerment, among other charges.

The unidentified boy had previously been reported missing in 2007.
An anonymous smart reader has went through the various pictures on Lau's above MySpace profile and noticed some disturbing pictures that were posted there, presumably by Lau herself.
UPDATE: Caren Ramierz arrested
UPDATE II: Another suspect has been arrested in connection with this case.  Police have identified him as 29-year-old, Anthony Waiters.  Thanks to PBB for the information.