Teen has to wear colostomy bag
:
A 14-year-old boy has been sent to a New York hospital after he was allegedly sodomized with a broomstick in a neighbors backyard.
The assault left the boy with several internal injuries, so much in fact he must now wear a colostomy bag.
One of the suspects accused in the attack is Joseph Sean Lavalle, 16, of Great Kills. He has been arrested (but since released) on charges of first-degree aggravated sexual abuse and assault.
A teen who lives in the neighborhood was quoted as saying, "They meant it as a joke, just playing around. They didn't mean for it to go as far as it did." Apparently Lavalle's mother also believes that it was all just some sort of joke as well.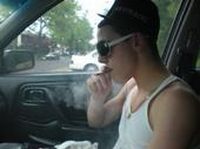 You know because that's what kids do, right? Come on now people, don't you remember when you were a kid and you grabbed your mama's broomstick and brought it over to a friends house to sodomize him/her endlessly for hours?

No? Don't remember that, huh? Well that's ok, neither do I.

This all really is just another case of more dumbass kids who are raised by even more dumbass parents (or parent) doing things that would have got their own asses kicked by their friends 10 years ago.
Whether it's the elderly abusers from Minnesota or the broomstick sodomizers of New York, rest assured the future of this country is in great hands.

Anyway, don't forget to check out Lavalle above MySpace profile. On it, he brags openly about being some stupid pothead loser. Worse yet, all his loser friend's love him because he loves pot.

Now how could their parent(s) not know what's going in their own kids lives, but I somehow do?
UPDATE: Quickly after getting rid of the Mairjuana themed layout, Lavalle has set his profile to private.  A cache of how it looked at the time can be found by clicking here.  
Meanwhile, his father, Louis, has given an interview to the Staten Island Advance defending his son.
UPDATE II: I've been reading various comments from Staten Island Advance users on their website and came across and individual claiming to know of information on the incident.  While, their post cannot be confirmed I believe it's worthy of posting here:
"Let me start by saying anyone who thinks this incident is a joke is a sick individual!!!! I living in the area heard all the sick and disgusting details. First the boy never consented to being sodomized, thats for sure. It was Joey Lavalle who came up with the idea. His brother held his arms and one of the 2 girls at the scene sat on his back he was then depants by his "best friend" The broom stick was inserted and Joey and another boy whose name I know were jamming and kicking the broomstick inside the child. As the brother realized how much agony his brother was in he tried to stop them but no success. All the individuals involved should be tried and sentenced for child rape because that is what is was. As the paper does not mention not only did they puncture his rectum but they got his prostrate and bladder. The boy has had many surgeries and suffered 2 heart attacks while under anesthesia. He also is scheduled for more surgeries. This is just the beginning for this poor child. He could be hospitalized for up to three months. NOT A JOKE!!! I know J. Lavalle and he is an animal always was even when younger he is angry and dangerous. I once lived on the same block of the Lavalle's and he and his friends killed stray cats and set an empty house on fire. This boy is a danger to society how can he get out of jail. Why no bail? This is so sickening to the community we are afraid to let our kids out knowing that child predators are roaming our neighborhood. I do know the names of all who were at the scene but cannot name names because their age, but Joey should be tried and so should all the rest. Like I said they went to the backyard to smoke a blunt and this incident occurred. The boy definitely did not say yes to anything he was forced to the ground de pants and sodomized. Lets not try to sugarcoat the truth. These are bad kids and should be rightfully punished. God Bless the boy and I pray justice is done."
Also, I've been wanting to write that I had already previously identified the victim, but was obviously inclined to not post his profile on here. It wouldn't be proper.  But I will 'say' that the young 14-year-old was a good friend of Joseph's and also shared similar illegal interest with him.
In one of the photo's of the unnamed boy, he displays a picture of an assortment of pills as well numerous images of him smoking dope.  A YouTube profile associated with the victim features various teenaged pranks.
Some of the video's on the site also feature Joseph.
UPDATE III: A new cache is now available here.  Meanwhile, a second suspect has now been arrested.  An anonymous reader is claiming this is the MySpace profile of suspect #2.  
The individual is only identified as "Brandon". He has since pleaded not guilty.