43-year-old talked dirty, sent nude pics
:
A
University of South Alabama
economics professor has been arrested on charges of sending obscene photos of himself to an FBI agent who had been posing as a 13-year-old girl online.
Police say 43-year-old Bary Simpson, of Mobile, used the screename "Sam Jones" while chatting with the young girl whom he had thought to be real at the time. During conversations the good professor allegedly sent the "girl" two pictures of his penis to her.
According an affidavit, Simpson also asked the girl, "would you want me to come see you if I traveled down there?"
Apparently he didn't have to wait to long, because the 13-year-old had planned on visiting Mobile over the Thanksgiving holidays anyway.
Simpson, who is married, was eager to meet the young child for sex. So much in fact, when the agent asked Simpson online if he was planning on having sex with her, he simply replied "yep".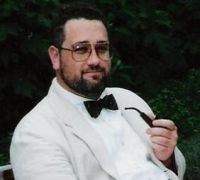 Yup indeed. Mr. professor was going to ditch his own family over the Thanksgiving holidays so he could get his dirty old hands (among other parts) on this mysterious young child whom he had grown extremely fond of recently.

Luckily, professor Simpson never saw it coming though. Instead investigators traced the "Sam Jones" to a computer using the e-mail address simpson@business.auburn.edu which lead to Barry Simpson's residence, where he was subsequently arrested.

If convicted on all charges Simpson could face up to 10 years in prison.

Besides the above MySpace profile, Simpson also maintained another one found here.