A 20-year-old woman has been charged by police in her home state of Alaska after accusing her ex-boyfriend of violently raping her.
Elisa LaCroix, of Anchorage, initially told police that her ex-boyfriend, 24-year-old Cole Rothacher, held a knife to her throat as he
brutally raped and punched her in the stomach
. After he was done with that, LaCroix told them that Rothacher threatened to kill her unborn child.
Because of the severity of the allegations and apparently some sloppy police work Rothacher, a four-year Army veteran, was lodged in jail for roughly two weeks.
The only problem was none of that was ever true, not even close. LaCroix, who is currently married, made it all up. Every single bit of it.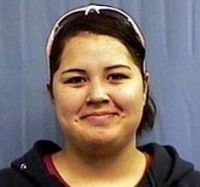 Instead, the DA alleges that LaCroix created the crime scene all herself, even going as far as injuring her genital area, swallowing a condom and stabbing her bed with a knife.

So why did LaCroix make the story up? According to police, when recently questioned she stated that she wanted to get Rotacher out of the picture because he was "complicating her marriage".

In this recent blog entry, LaCroix wrote the following:
"I was recently involved in an incident which I wish we would have been able to private but it ended up making it into the newspaper. Quite a few different newspapers, actually. Though the Anchorage Daily News had enough decency to leave my name out of it, a few other papers did not.

As if the incident itself wasn't enough to deal with, now we are dealing with people showing up to our apartment, my work, but sending hateful emails. Whatever happened to victims having rights? Like being notified when their attacker is being released from jail? Being notified of any updates in their case? Is this really what it has come to?"
Apparently someone forgot to inform LaCroix that the only way victims can have rights is if they are truly victims themselves. In a sad way the only rapist here at hand was LaCroix.  She not only took Rothachers freedom from him but she also took the voice from true victims of rape and made it her own scream in the night. 
She was perfectly fine with that...

UPDATE
: LaCroix charged in new kidnapping case