Suspect told victim he was "Santa's little helper"
:
A Wakulla, Florida man has been arrested and held without bail after admitting to police that he sexually assaulted a little 4-year-old girl.
According to reports, Francisco Ramon Alicea, 34, assaulted the girl while "caring" for her on New Year's Eve.
The case against Aliciea, who is married, originally began when the mother of the victim told her she was hurting and proceeded to tell her what had happened.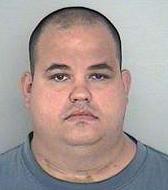 Concerned, the mother took her daughter to the hospital where an examination confirmed her story.

During questioning, Aliciea confessed to the allegation and had told the young girl that he was "Santa's little helper" and to not tell anyone.

If convicted, Alicea could face the death penalty.