Prior CPS report filed in 1999
:
A married couple from Nevada have been arrested on charges of sexually assaulting their own children for more than a decade.
Police say the investigation into Frederick von Seydewitz, 44, and wife Mary, 48, unraveled after one of the couple's children reported being sexually assaulted by the both of them over a 12-year period.
The family members told detectives various stories and incidents of what had occurred over time. On one occasion it is believed that their then 8-year-old daughter and then 10-year-old son were forced to perform sexual acts with them.
The incestuous activities are believed to have gotten worse as the years went on as well.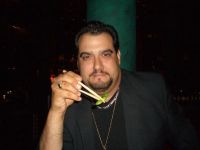 MySpace Profile of Frederick von Seydewitz
Sadly, a CPS report was filed in 1999 but was never followed up after Mary purportedly forced her daughter to recant her allegations.
Unfortunately, I could not locate a MySpace profile for either couple, but was however able to archive part of the Facebook profile of Fred Von Seydewitz 
here
and
here
.
UPDATE: Thanks to an alert tipster we not only have the above MySpace profile of Fred Von Seydewitz but we also have the private profile of wife Mary found
here
.