A 26-year-old Pennsylvania man has been charged with raping a 5-year-old girl in the early morning hours of December 21st.
Police say Jason Paul Erskine, of Morrisdale, had been staying with the family of the victim at the time of the incident. The girl's stepmother told investigators that she and her husband were watching tv when Jason Erskine, told them he was going to go take a bath.
After about 10 minutes, the stepmother heard a scream and quickly opened the 5-year-old girl's bedroom door, and saw the victim completely naked along with her daughter. The stepmother noticed blood on her sheets and realized what had happened. She quickly called police.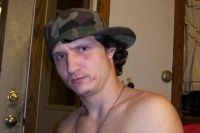 The little girl told police that she was lying in bed when Erskine entered her room and at some point he got undressed and placed his right hand over her mouth. He raped her. After he was done with her, he got his pants back on and went over to her sister and put his hand over her mouth. As he attempted to rape her (she was 3) the 5-year-old yelled and got the attention of the stepmother.

The stepmother then confronted Erskine and dialed 911. When questioned by police Erskine admitted to raping the girl.