Police in the state of Tennessee have captured a 24-year-old man from Illinois who was wanted in the grisly murder of a homeless man.
Kyle William Morgan, of Arlington Heights, was apprehended yesterday after a lengthy police chase in which he drove his car onto a sidewalk and hit two pedestrians, Allison Gwyn and Blake Parsons, both 23.
Morgan ditched Illinois and head to Tennessee after he was accused of stabbing to death 28-year-old Robin Burton Jr., an acquaintance, at an apartment complex sometime this past week.
A maintenance worker found Burton's lifeless body on Monday.
While Morgan's criminal record is somewhat limited, his family insist that he had been abusing alcohol since he was a young teenager and also suffers from manic depression.
Morgan's MySpace, which has since been deleted, shows a troubling image of a disturbed individual, someone who is clearly mentally disturbed and severely disconnected from reality.
On it, he states that he is "down with Satan" and claims to be pen pales with a serial killer. He also boast of punching four police officer's in the face and enjoys drinking women's blood. Images of women in bondage are seen throughout and he even claims his ex-girlfriend died of a heroine overdose.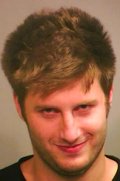 Myspace profile of Kyle Morgan
In one of his blog entries, all found here, Morgan writes more about his now dead ex:
"2 and a half years ago a girl I was in love with died of a heroin overdose. We used to watch Dracula together and have blood sex. She meant the world to me. These words speak of how I feel. I would submit to the darkest deeds in the world to just be able to kiss her beautiful face again."
In another disturbing entry, Morgan continues to ramble on like a stark raving mad lunatic:
"this world needs a new revolution. not just in one way, the whole system has to change. we can't fight it with peace or we will lose. the system fights with war, and what they shall recieve back is war. we need to organize a rebellion of all the outcasts punks, goths, skins, hardcore kids, serial killers, metal heads, terrorists, school shooters, anarchists, satanists, mass murderers ect. we have to unite and fuck up the system. its been to long of sitting around and doing nothing. unite the clans. unite the underground network. think of the damage we could cause. we could fuck it up hardcore. hahahahahzaha.... "
Not exactly the type of man you'd like to see your daughter date, huh? I didn't think so.
Besides the above, Morgan also maintained another MySpace profile found
here
. On that more recent one he used the name "nihilist stylist". A photobucket account created by Morgan is visible via
this
link.
On a MySpace page
devoted to serial killer Ted Bundy
, Morgan wrote the following on September 22, 2007:
"i'M THE MOST COLD-BLOODED SON OF A BITCH YOU WILL EVER MEET! MY BROTHER."
He is also a member of a MySpace group called "
Cop Killers
".
A personal website associated with Morgan can also be found by clicking
here
.