In the state of Ohio police have jailed a 23-year-old Chesapeake man on multiple charges of sex crimes involving children.
Police say Mark E. Thompson was apprehended after an elementary school aged girl told authorities that her cousin had been molesting her. 
Concerned they quickly hunted down Thompson who
confessed to the allegations
.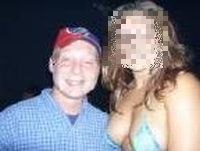 Thompson was arraigned in court on two counts of first-degree rape and one count of gross sexual imposition involving a girl under the age of 13. He was also charged with assaulting another girl under the age of 13 as well as an underaged boy.

Thompson has plead not guilty by reason of insanity.

Besides the above MySpace profile, Mr. Thompson also maintained another one found here.