The managing editor of a small town newspaper in the state of Illinois has been arrested on three counts of possession of child porn.
The case against 44-year-old John Gojkovich, editor of the
Murphysboro American
newspaper, unraveled after police followed up on a tip and subsequently seized his workplace computer as well as other evidence.
Court documents suggest that Gojkovich possessed images of young underage girls, both naked and "posed in inappropriate positions".
More charges could follow as their investigation deepens.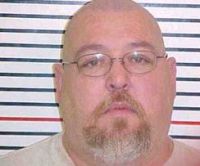 Regardless of the above accusations, Gojkovich had recently been interviewed by a local television station there on the topic of the future of daily print media.

Gojkovich was quoted as saying:
"I don't think we're in danger of losing small town newspapers, I think we're in danger of losing the large ones, the conglomerates

".
It appears as if he's almost half-right though, just ask the manager of the "
Rome Sentinel
", 29-year-old
Paul Sylvester
, who had been employed by that small town NY paper prior to his arrest on similar charges just a few months ago.
If these pervy small town editors keep getting jailed in these kid porn cases, then small town folks like me could all end up walking around aimlessly stupid for the rest of our lives.
Actually that's not true at all, but if it was 1988...
UPDATE: Gojkovich pleads guilty, must register as a sex offender.