Thought boy was 14, says suspect
:
Thanks to two (or maybe one) alert reader(s) we can label the below story as an utter waste of everyone's time as it was completely inaccurate.
The pilot's name was actually Steven Anderson
not
Steve Henderson
, who is accused of sending explicit text messages to a 12-year-old boy that he had met on MySpace.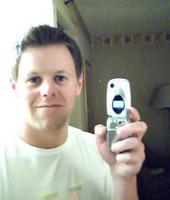 Anderson's own above MySpace also makes no claim of him living in the state of Iowa, but is more likely to reside in Minnesota, where he is employed by Mesaba Airlines, a commuter company owned by Minnesota based Northwest Airlines.
Thanks to a tipster for the MySpace profile.