Youngest victim said to be 13
:
Police in the state of Nebraska have arrested a 21-year-old man Bellevue on accusations that he may have sexually assaulted at least four different teenage girls.
According to reports, Spencer Osler White had used MySpace to lure dozens of girls online into meeting them.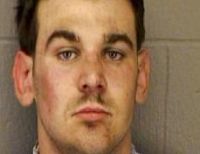 The youngest victim is said to be only 13-years-old and police say two of the victims were forced to commit sexual acts.

Authorities ask that anyone with any more information on White or this case to please contact them at 402-293-3100.

Besides the above Myspace account, White maintained another one found here and also maintained a profile on another social network here.
UPDATE: More victims come forward, 11 total.
UPDATE II: Four more victims come forward, now 15.
UPDATE III: White sentenced to 36 years.