Two tried to dismember body with chainsaw
:
Police in Pennsylvania have arrested a 22-year-old woman on charges that she hired her boyfriend to kill her father.
Investigators say Christina Rubin had been upset with her dad, Marc David Rubin, 46, because he was always "yelling" at her. So upset in fact was the recent Penn State graduate, she decided to do something about it.  Something bold.  Because she just couldn't take it anymore.
So instead of moving out of her father's apartment, the 22-year-old allegedly paid her boyfriend, Jeffrey Leinheiser, $1,000 to kill her father.

Police allege around 11 p.m on November 28th, Christina let Leinheiser into the apartment and handed him a gun that she had legally owned. While Marc Rubin was sleeping on the couch, Leinheiser allegedly crept up to the sleepy man and shot him once in the back of the head, killing him instantly.  
Just to make sure he was dead, Leinheiser kicked the lifeless body of Mr. Rubin around for a bit and then quickly fled from the apartment, taking along with him the dead man's daughter.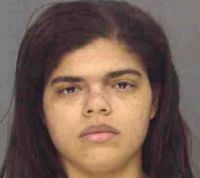 MySpace profile of Christina Rubin
On December 5th, the two returned back to the crime scene, where Mr. Rubin's body still laid and at some point during the day, Christina tried to dismember her father's body with a chainsaw that she had recently purchased.

Unfortunately for her, because his shorts had gotten caught in the chain's teeth, she had difficulty doing this. Leinheiser however, was much more successful.  So much in fact he was able to saw off both her father's legs.
Christina Rubin and Jeffrey Leinheiser then bought a carpet, and together (and in love) wrapped the dead body of her father in trash bags and rolled him up in the carpet and proceeded to push him down nine flights of stairs.
They then threw the dismembered father in the back of a truck and drove off to New Jersey in an attempt to dump him into the Atlantic.

However, while there they were unsuccessful in renting a boat. Obviously lazy, somewhat tired and immensely stupid, on their way back home they just dumped the body in some woods of Atlantic County.

The two however were duped from the start.  You see, on opening day of deer hunting season, a hunter found Marc David Rubin's body wrapped in trash bags and rolled up in a rug.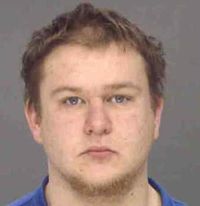 MySpace profile of Jeffrey Leinheiser
Over the next month, authorities say that while still living in her father's apartment, Christina being the selfish bitch (actually they didn't say that) drained his bank account and according to the article, checked the Internet to make sure her father hadn't 100% been identified as of yet.

In the end though, the two left plenty of evidence for investigators to put the pieces together and ultimately solve the puzzle of who killed Marc Rubin.

An accomplice in the case, 19-year-old Daniel Dougherty, was also arrested. He is being charged with tampering evidence and abuse of a corpse.