A 21-year-old Ohio woman is scheduled to appear in court later today on charges of possessing and disturbing child pornography over the internet.
Rachel Amanda Gaumond, 21, was originally arrested back in November in a major six month long sting, known as
Operation SafetyNet
. 
Gaumond is believed to have downloaded at least 17 photos and shared a total of 66 online. Most of the pictures featured infants and bestiality, prosecutors say.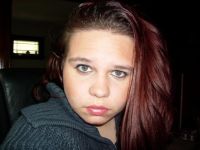 Besides the above MySpace profile, Gaumond marked her spots online at both Blackplanet and Cutemeter.  Although on the latter she states her age as 17, however it could be an older account as well.
A few other of her online profiles assoicated with Gaumond have since been deleted.  Also her photobucket account can be accessed
here
. She does have another photobucket with over 150 different images, but I will not be linking that one because of a series of pictures that either feature her or another female masturbating.
Gaumond often uses the following screenames online, "WNxSecksiHealer", "icygoddess", "didgitalgurl", and most commonly "icpprincess123".
She however was not the only woman arrested for child pornography during the sting.  
Leslie E. Borzon
, 39, also of Lakewood, is scheduled to appear in court on Wednesday.
UPDATE
: Both woman plead guilty to charges.