An Ohio woman was arrested at her apartment on accusations that she tried to hire a hitman over the Internet to kill her 54-year-old husband.
The suspect, Retha Hutchinson, of Alliance, faces a charge of conspiracy to aggravated murder. Her husband,
Bill Hutchinson
, luckily was not harmed.
Reports state that Retha had moved out of the home over a month ago. But this information really isn't all that surprising as is evident from her below MySpace profile.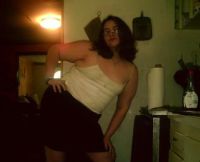 In one of her many blog entries one entitled, "Playing Dirty", sticks out the most:
"OK SO SOMEONE WANTS TO PLAY DIRTY HERE GUYS. my soon to be ex husband is telling me that this is going to get dirty b4 its all said and done. i think he has a lot to learn about me that he never knew. i learned from the best how to play dirty and what he fails to realize is i have a lot of friends that will catch my back b4 any of his friends catch his back. he probably hasnt even told his family the real reason i left his ass. like how a 54 yr old man cant even pick up after himself when his wife should only be picking up after a 22 month old baby boy. or how he cant please a woman in bed. and the fact that he refuses to make a call to find out if he is still married. if he is he has committed bigotry and his ass can go to jail. see i have too many friends from texas that i know the laws. so if u think the bastard should pay for what he has put me thru then plz send some comments. if he is still married number one my marriage to the man is null and void. and if he should die or something happen to him the other woman gets the benefits b4 i do. the man doesnt care as much about my child as he did his other children biological or step. he claims he wanted to be my sons father but couldnt lift a damn finger to help me out with it. the man put me thru a lot of hell and says this is gonna get dirty for me???? HA HA HA HA HA HA HA HA HA HA HA HA HA HA HA HA HA HA HA HA HA HA HA HA. rofflmfao"
There are 6 comments in that blog.  Three are from Bill, and two responses from Retha.  It does get pretty messy over there. 
The whole thing is just a sad state of affairs between the two.  Not exactly a picture perfect marriage I guess, huh?
What's interesting is things actually looked pretty darn good for Retha just a couple a months of ago.  In a cache found
here
,  Retha clearly reveals that she was a much happier woman then:
"I am a 22 year old female happily married. I have a 26 year old stepdaughter and a 1 year old son. I like to chat and watch my husband race. My hobbies include but are not limited to, crocheting, listening to music, working, and talking to my friends online."
I guess in subsequent time she had picked up a new hobby.  Stupid bitch couldn't even put that to use.  What a loser.  Bill, if you ever stumble upon this post I must ask, what did you ever see in her to begin with?
Oh well, in the end it looks as if Retha didn't really have the last laugh like she so desperately wanted or even needed as she's currently being held in jail in lieu of $50,000 bond.
Besides the MySpace account, Retha also maintained a profile on myYearbook.com found
here
.