A Oregon man was arrested and taken to jail Monday on a 2008 charge that he possessed child pornography.
Police took Joseph Michael Kinney, 37, of Beaverton, into custody after violating a release agreement he had made in May.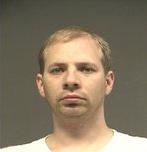 Kinney is currently being in lieu of $250,000 bail.
On his above MySpace profile, Mr. Kinney declares himself as an "intuitive healer" who is "very intellectual" and hopes one day he will meet a woman who will "slip into and evening dress for a night on the town."  
Why that's important I don't know, I just think it's funny and needed a filler.