Elderly victim stabbed in neck, left to die
:
In the state of Oklahoma a former veteran of the Air Force, who police say suffers from mental issues, has been arrested in a bizarre murder case of a 78-year-old woman.
Investigators say, Kimberly Kay Hegwood, of Midwest City, allegedly admitted to various members of her family that she brutally murdered 78-year-old Alma Block and for no apparent reason.
Hegwood is currently being hospitalized for an overdose and is expected to be taken into custody after she recovers.
According to reports, Block and Hegwood met at a Walmart parking lot sometime on Monday afternoon. Hegwood is then believed to have offered the elderly woman help in unloading her groceries at her home.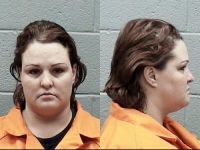 Hegwood then allegedly followed Block to her home, where police say she stabbed her in the neck and left her to die in a pool of her own blood.

After killing Block, authorities say Hegwood later arrived at her own home (she had lived less than a mile away from Block) where she phoned a relative and told her what she had done. Hegwood is then said to have overdosed on some form of medication and was later taken to a hospital in Oklahoma City.

Before being murdered, Block had been anticipating a prayer meeting scheduled at her church later on that day.

UPDATE: Details emerge in Block murder case