Husband walked in on incident, kicked some ass
:
A Super Bowl party at an Albuquerque, New Mexico residence turned ugly not only for a woman who allegedly had been raped but also the suspected rapist himself.
Police say, 22-year-old Joseph Vallo, of Cubero, attended the party last Sunday when he allegedly followed the intoxicated host's wife into her bedroom and proceeded to rape her.
Luckily for the victim, her husband entered the room and thankfully caught Vallo in the act.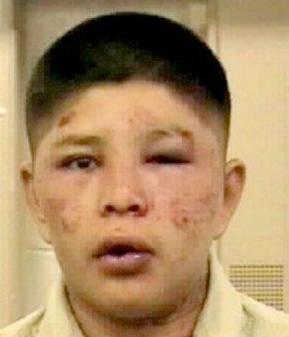 Enraged with anger, the husband kicked and repeatedly beat Vallo so much he had actually thought he might have killed him.

Vallo however was not dead, but was instead quickly rushed to a hospital. After being treated he was then taken to jail where he currently sits in cell #13 at the Metropolitan Detention Center awaiting a $100,000 bond.
Ironically, this is just like a post I made of a one Jeffrey Bone, who was arrested under similar circumstances last year at Christmas party he had attended.