Victim shot in head, say police
:
A 23-year-old Oklahoma man has been arrested after allegedly confessing to investigators that he murdered his 6-year-old daughter.
Police say Matthew Peoples, of Spencer, initially told them that he had dropped his daughter, Denise Anderson, off at her mother's house before she went missing.
Investigators however did not buy the story and after searching Peoples residence and interviewing various family members police later questioned Peoples who then purportedly confessed to shooting Denise in the head.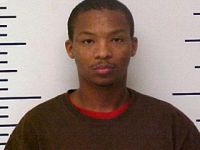 Not surprisingly, Matthew makes no mention of having a daughter on his above MySpace profile as well as his three other profiles found here, here, and here  
On his Blackplanet account found here, Mr. Peoples again makes no mention of Denise Anderson.

Matthew also has staked his claim on the following dot coms, michaeljackson, mixyourworlds, xanga, migente, and xfire.  However those accounts are essentially bare-bones and really not much to look at.
Besides those links, he also maintained an adult-themed Yahoo! Group.