Local schools had been placed on lockdown
:
Police in Oklahoma have taken a 20-year-old Cushing man into custody on suspicion that he may have been involved in the murder of 3 people.
Robert Chad Barela, 20, was apprehended at a Wal-Mart parking lot by authorities earlier today after they say he killed Elizabeth Michelle Hueser, 19, Albert Sernas, 21, and Douglass Mason Peck whose lifeless bodies were found at a home in Cushing earlier this morning.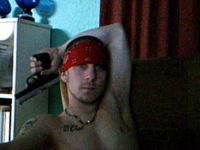 Investigators aren't releasing much information as of yet, but Barela, who grew up in the area, was being held on three complaints of first-degree murder.

Note please, both Elizabeth and Albert are listed as friends on Barela's above MySpace profile.