Victim pronounced dead on scene
:
Virigina--A 22 year-old sailor, stationed on the
USS Kearsarge
, has been arrested in connection with murder of a fellow member of the Navy.
Darren William Mackie, originally of Wisconsin, was taken into custody after police received a phone call about a possible shooting at an apartment that had been in Mackie's name.
Once officers arrived on the scene they found the lifeless body of 21 year-old Caitlin Trask, who apparently had suffered from a gunshot wound to the head. She was pronounced dead on the scene.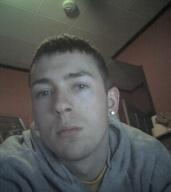 Trask, who was stationed aboard the Norfolk based carrier USS Dwight D. Eisenhower, is listed as friend #1 on Mackie's above MySpace profile. Early reports also suggest that Trask and Mackie had been dating up until her untimely death on Thursday.

Investigators say the case remains under investigation and have not yet released a motive for the killing.