Alaska--What's wrong with Elisa LaCroix? First earlier this year she
accused her ex-boyfriend of violenty raping her
one night, he didn't. Now she's being accused by police of
staging a fake kidnapping
and pinning it on whom? Her ex-boyfriend of course!
I feel bad for her ex, 24-year-old Cole Rothacher, who by the way is a decorated four-year Army veteran and
recently re-enlisted to serve for another six years
.
Anyway to the story, police say 20-year-old LaCroix, of Anchorage, dialed 911 last Saturday night and told them that her 3-week-old son, Ethan, had suddenly been snatched from his bed. Consequently, the state of Alaska issued it's first ever
Amber Alert
.
As panic ensued the surrounding neighborhood and locals watched helplessly, investigators searched frantically late into the night looking for clues into Ethan's disappearance.
But not a single car that was stopped nor every dumpster searched provided anything for investigators. Where was little Ethan at? Where could he have been?
According to reports, LaCroix sure knew what had happened. She told them that ex-boyfriend Cole Rothacher was somehow behind the entire kidnapping.
Of course, I'm sure that allegation quickly raised some eyebrows because LaCroix had earlier accused Rothacher of raping her. He has since been cleared of those allegations after she admitted to them that she made the whole thing up.
But still anyway, police had to follow up as time was quickly running out. So after interviewing Cole Rothacher they became convinced that he had absolutely nothing to do with the abduction of Ethan.
Obviously, at some point the finger pointing came back to LaCroix and she was arrested on Sunday after police again say she made the whole thing up...again.
According to investigators, they believe LaCroix, and her husband, also a soldier, spent most of Saturday night watching movies at their apartment. At around 9:15 that night, the husband assumed that Elisa was putting the baby to bed, but about an hour later he went to go check on Ethan who was suppose to be sleeping in his crib. He was not. He was gone.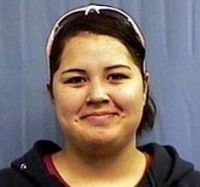 Elisa must have put on a pretty good act, as she dialed 911 and told officers that her baby had been taken from his crib after an intruder had climbed through an unlocked window and took the 3-week-old boy.

But police say that didn't happen. Instead they believe Elisa had it all planned out. A little after 9 they believe she handed Ethan to a friend, 20-year-old Amelia Cameron, who had been standing outside the window to take him in order to prevent her husband (they had earlier filed for divorce but still lived with each other) from gaining custody of Ethan before he went overseas to be deployed.

As the investigation quickly moved forward, finding loopholes in the story, and identifying witnesses, police tracked down Cameron with Ethan, who was luckily found safe and unharmed on Ford Richardson.

LaCroix has now once again been charged with filing a false police report. Meanwhile, Cameron has not been charged with any crime as she allegedly did not know that LaCroix was going to file a missing-child report.