Missouri--A 20-year-old mother has been
arrested on murder charges
after police say she suffocated her 3-month-old daughter, Shaquir Jones-Boyd, and repeatedly injured her 4-month-old son.
Sharnique Jones, 20, of Pine Lawn, initially caught the eye of the medical staff there who had noted that she had been continuously taking her son to the hospital. You see, he was always turning blue and was unable to muster a breath.
Concerned, they contacted authorities who in turn questioned Jones.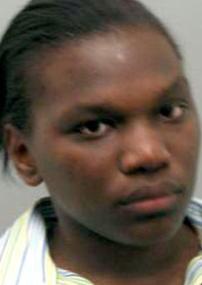 According to investigators, Jones allegedly told them that she had placed a pillow over the face of her now dead daughter and suffocated her. She also apparently was attempting to do the same to her son.

Jones was ultimately taken into custody on charges of second-degree murder, first-degree assault and two counts of first-degree endangering the welfare of a child.

Besides the above MySpace profile, Jones also sorta maintained two others found here and here.
Her much active Bebo can also be found here. Note that she writes the following on her account:
"R.I.P Shaquir my number one angel"
You know, the same one she brutally killed.
For those in the St. Louis area you can probably view her Facebook by clicking here.
As always, thanks to our awesome Metro STL Watchdog for Jones's profiles and original article.