Police in North Dakota have arrested a Fargo man on accusations that he repeatedly sexually assaulted a 12-year-old girl.
The case against suspect
Christopher Wayne Selfridge
, 22, began when the alleged victim told authorities that molestations started to happen immediately after Selfridge moved in with her and mother.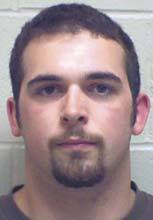 According to The Fargo Forum:

"She told police when Selfridge would come into her room at night and molest her she would pretend to be asleep hoping that he would go away."
The girl eventually told her mother in turn confronted Selfridge who at first denied the allegations but then later told the girl, "I'm sorry for everything I did to you."
If convicted Selfridge could face up to 30 years in prison.
In other
stupid mother's letting strangers stay with daughter's
news, 
Patrick Brewington
, 23, of Texas, was arrested for
sexually assaulting a 13-year-old girl around 30 times
after her mother let the Killeen man stay with her and her daughter.
Amazingly, when the girl told her mother what had happened she dismissed the allegations and Brewington continued to abuse her.