A former student enrolled at the
University of Virginia
has been arrested on child pornography charges.
Dustin James Lapradd, 23, has been charged with 10 counts of possession of child pornography after detectives executed a search warrant in April at his dorm room.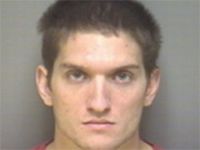 According to the investigators, Lepradd's IP address had been traced to his personal computer located on the UVA premises, which was also one of the most active addresses trading child pornography over the Internet.
In fact, one video that Lepradd is alleged to have possessed was that of fully naked girl under the age of 5 being abused in a bathtub.
He is currently free on bond.