A California man has been arrested after allegedly posing as a 14-year-old girl on MySpace and then subsequently having sex with one of them.
Joshua David Threlkeld, 32, is scheduled to be arraigned on charges of kidnapping to commit rape; aggravated sexual assault of a minor by force; penetration by force, violence, duress, menace or fear; communicating with a minor with the intent to commit a specified offense; and arranging a meeting with a minor.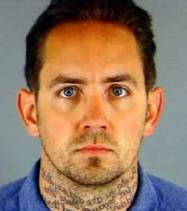 Police believe Threlkeld posed as a girl named "Sara Miller", and convinced them to pose for a man named "Josh", who of course was the suspect himself. Later, he would pick them up and take them to his home in Palm Springs.

Threlkeld is believed to have used the MySpace name, "Model-508 Studios," to solicit more young girls for nude modeling work.

Besides the above profile, Joshua also maintained another one found here.
UPDATE: Threlkeld ordered to stand trial.
UPDATE II: Threlked gets life sentence.