A Loveland, Colorado teen has been arrested after police believe he
fatally stabbed a 34-year-old man to death
at park near a local high school.
According to reports
, Larry James Walters, 19, stabbed to death the victim, David Shern, around 9:45 p.m last Thursday. He was quickly rushed to the hospital where he later died.
While police have called the incident "isolated", they are still trying to figure out what brought the two together at the parking lot near 2800 N. Taft Ave. to begin with that fateful night.
Walters, who has does have a criminal record that includes charges of theft, impersonation, restraining orders and drunken driving, has been booked on first-degree murder charges.
He is currently being held at
Larimer County Detention Center
without bond.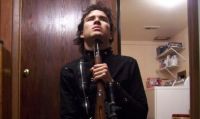 On his above MySpace profile, Walters calls himself "cryptic king lord black death" and on it writes that's he's fascinated with death as well as swords and is interested in such activities as BDSM, bondage and domination.
Another words, he was bound to grow up working the drive thru at the local Dairy Queen well into his 40's had he not been arrested for murder on Friday.
If you don't believe me about my DQ theory please feel free to take a look at the following video:
Anyway, my thoughts and prayer's go out to Mr. Shern's family and friends.

UPDATE
: Walters guilty, gets 12 years