North Carolina--A music minister at the
St. Eugene Catholic Church
, in North Asheville, has been
charged with attempting to take indecent liberties with a minor
.
The incident that 29-year-old Paul Lawrence Berrell is accused of is believed to have occurred at his personal residence sometime on April 21st.
A parent had contacted police to report the whole incident.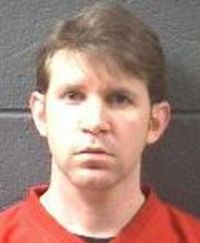 On his above MySpace profile, Berrell writes that he is "a published composer" who released an album last year, "This Little Boy: A Christmas Collection."

He also maintained another account found here. A Facebook operated by Mr. Berrel can also be found by clicking here.
UPDATE: Grand jury indicts, pictures of minor found at Berrel's residence.
UPDATE II: John Schneider, pastor of the St. Eugene Catholic Church, resigned suddenly on Tuesday following obstruction of justice charges. Police allege he entered Berrel's apartment in May and deleted "hundreds of child pornographic images" in order to foil the investigation.
UPDATE III: Berrell pleads guilty, faces 30 years.