Police in Missouri have arrested a 17-year-old teenager on two counts of first-degree murder after he allegedly stabbed two other teens to death at a home in Nevada.
Garret Matthew Mason, of Nevada, who pleaded not guilty in court yesterday, is accused of killing both Anne E. Reed, 18, and Kylie M. Leyva, 14, sometime on Sunday night.
Witnesses who spoke with police said Mason had come to their home on Sunday with blood on his clothes and body and reportedly asked them to say that he had been with them for the past several hours.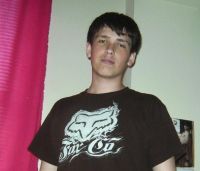 Mason is then alleged to have changed his clothes and put them (along with a backpack) in the truck of his vehicle. Those items were later discovered by police.

He is currently being held on a $2 million bond.
Note please, I suspect Kylie is listed as one of his "friends" on his above account.
Thanks to our Metro STL Watchdog for Mason's above MySpace profile and original article.