Children witnessed the whole incident
:
Missiouri--A 23-year-old Hazelwood man is dead today after shooting himself in the head, but not before he took the innocent lives of his ex-girlfriend and her new boyfriend with him.
Police say Michael Dean Bullington shot to death both Ashlin Munday, 23, and Daniel Smith, 24, in front of three children (Bullington and Munday's daughter Taylor, 3, and son Landon, 2, as well as Smith's son Carter, 3).
After slaying the two, Selfish Bullington got in his car and drove a short distance, grabbed his shotgun, pointed it to his head and pulled the trigger.
Bullington, who I'm sure now resides in hell, had reportedly been upset after Munday kicked him out of their home recently.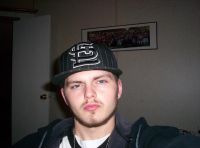 Bullington's mother was quoted in the St. Louis Dispatch as saying:


"That was his first love, they'd been together since they were about 16," Hatch said. "She abruptly kicked him out. He wasn't expecting it. He loved her and he loved those kids so much."
Which is of course is utter nonsense and I'm sure it might make her feel better about the whole situation, but of none of this is remotely true. I can't figure out how if he loved her so much, why would he then go around and kill her?  Now their kids have no mommy, or daddy...that's not love.
Sounds to me it's more like hate, mixed in with a whole of selfishness. Which is usually a recipe for murder.
My thoughts and prayers go out to the family and friends of both Ashlin and Daniel. 
Besides the above MySpace profile, Mr. Bullington also maintained another account
here
, specifically designed to show off his great rapping "skills".
Thanks to our very own Metro STL Watchdog for both the original article and MySpace profile links.