Arkansas--A 50-year-old Fayetteville man has been arrested after
police say he used his iPhone to take naked pictures of children as young as 3
.
The case against the suspect, Stephen David Morais, began when officers received a tip from an acquaintance of Morais who had told them that he possessed "inappropriate photographs" of two local girls at his apartment.
After seizing several items, including four laptops and two iPhones, investigators discovered that Morais had been in possession of numerous pictures of young children between 5 & 8 engaged in sexual activity.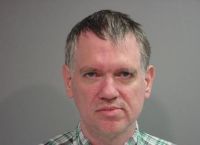 He has since admitted to the allegations, say police.