Michigan--A 32-year-old Ann Arbor man has been arrested by agents with the FBI and local police after they say he forced to young runaway girls, 12 & 13, that he met on MySpace to engage in sexual activity with him.
David Jeremy Zobel, director of music at
St. Luke's Episcopal Church
in Ypsilanti, had reportedly been conversing with the two young girls on MySpace, before ultimately driving to the state of Ohio where a criminal complaint states he forced the both of them "to engage in sex acts" in a parking garage.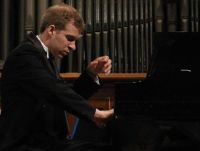 Even though Zobel denies the allegations, investigators say they have recovered sexually explicit pictures of the two victims at his apartment.
If convicted on all charges, Zobel could be sentenced to 30 years in prison.
UPDATE
: Zobel pleads guilty, investigators recover child porn.