28-year-old snagged in net sting
:
A Kentucky man has been taken into custody by police on accusations that he amassed nearly 8,000 images of various children engaged in sexual conduct.
Jason C. Golden, of Science Hill, is alleged to have been corresponding with a federal agent in April over the Internet when over time the two struck up a "relationship" and the 28-year-old suspect suddenly made the images available to him.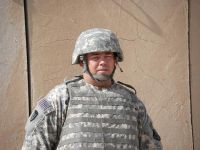 Golden, who writes on his above MySpace profile that he is a soldier, has been charged with distributing images showing minors engaged in sexually explicit conduct.