A 21-year-old Indiana man has been arrested on suspicion of two counts of child molestation for allegeldy engaging in sexual activity with a 12-year-old girl.
Lucas C. Thomas, of Muncie, was apprehended following an incident that occurred in April of this year.
I really don't want to write the following so I'll just let the original source,
The Herald Bulletin
, do all the work:
"The girl told investigators she watched Thomas and the 17-year-old girl have sex at the teen's home in April. The teen told investigators the 12-year-old asked if they could have a threesome, but the teen turned down the request. Following intercourse, the teen performed a sex act on Thomas. The 12-year-old then did the same."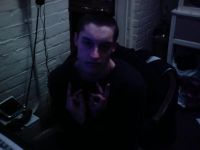 "Several days later, the three were again at the teen girl's home and Thomas fondled and kissed both girls at the same time. The teen and the 12-year-old also fondled each other. On another occasion, the 12-year-old and the 17-year-old were at the teen's home, and they fondled one another."
Another suspect, 18-year-old
Kody "Super Balls" Riddle
, also of Anderson, was charged with molestation as well after allegedly engaging in sexual activity with the same girl.
Both Thomas and the unidentified 17-year-old female have confirmed the victim's story, say investigators.
Anyway, besides the above MySpace profile, Mr. Thomas also maintained another account found
here
.