An investigation that began in Britain has led to the arrest of a Maine woman who allegedly used a webcam to stream online video of her performing sexual acts on her very own children.
Federal authorities say Julie Carr, 30, of Mars Hill, was apprehended by officers after police in Britain contacted US authorities about a video that had been streamed online purportedly showing a woman sexually abusing a child.
An 18-year-old Walsall, England, man was also arrested in connection with the case.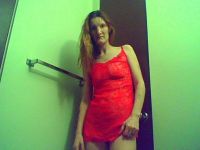 Carr's four children have since been taken into protective custody.

Besides the above MySpace profile, Carr, who is divorced, also maintained a myYearbook account found here.

Bond was set at an absurd $50,000.
Thanks to PBB & Dreamin Demon for the information.