A Waverly Hall, Georgia man has been after after police say he
solicited sex online from someone whom he believed to be a minor
.
Richard Stinson, 20, was taken into custody and charged with obscene Internet contact with a child and sexual exploitation of a child.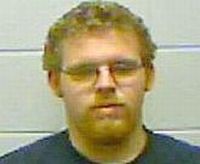 Stinson also has a LiveJournal found
here
Anyway, there's really not much else to write about Stinson other than the fact he strangely online declares his love for both a Lindsay & Allison.
Oh, the world waits and patiently at that Mr. Richard Kraft Ebbing Stinson II.
Which one shall it be?